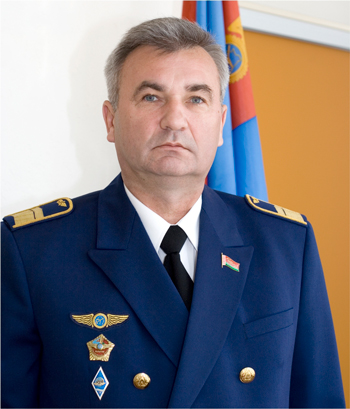 Leanid Churo
Director General
BELAERONAVIGATSIA
State-Owned Enterprise
BELAERONAVIGATSIA Republican Unitary Air Navigation Services Enterprise
BELAERONAVIGATSIA Republican Unitary Air Navigation Services Enterprise (BELAERONAVIGATSIA State-Owned Enterprise) was founded in 1996 in compliance with Decree of the President of the Republic of Belarus No. 126 of 4 April 1995.
BELAERONAVIGATSIA State-Owned Enterprise is the provider of air navigation services in the Republic of Belarus.
Improving the airspace management, BELAERONAVIGATSIA SOE ensures
cost-effective, regular and safe air traffic flows and provides aeronautical information.
Nowadays more than 1,000 airlines from 92 countries of the world operate flights in Belarus airspace. There are 500 to 950 flights over Belarus territory every day and up to 200,000 flights during the year, the safety of which is ensured by BELAERONAVIGATSIA SOE specialists. The air traffic volume grows every year due to the high quality of the state-of-the-art automated air traffic control system: BELAERONAVIGATSIA SOE operates advanced communication, navigation and surveillance facilities. Flight planning system provides overflight approval for every flight in Belarus airspace and rendering of air navigation services.
Due to the ability of all Belarusian airports to accept and serve international flights, the shortest air routes from Western Europe to the East and South-East Asia, and from Scandinavia to the South and the Mediterranean go via Belarus airspace.
The following airlines are the most popular operators for Belarus destinations: Aeroflot - Russian Airlines, Russia; Deutsche Lufthansa AG, Germany; Air France, France; Austrian Airlines, Austria; Belavia National Airlines, Belarus.
Fafourable geographic location of the Republic of Belarus facilitates the integration of Belarusian civil aviation into the European air transport network.
BELAERONAVIGATSIA SOE makes special efforts to enhance ATS routes network, increase airspace capacity, maximize the effectiveness of airspace use and improve flight safety.
In order to satisfy the airspace users' interests and to attract more air traffic flows, the international air routes network in Belarus is continuously developed.
Air traffic services in Belarus upper airspace are provided by Minsk Area Control Centre (ACC). Dealing with all "transit" flights, Minsk ACC closely cooperates with Warsaw, Vilnius, Riga, Lviv, Moscow and Borispol centres, which allows to improve the air route structure and area navigation.
At present Belarus airspace comprises 59 international RNAV routes. The total length of the air routes is more than 27,000 km.
One of BELAERONAVIGATSIA SOE priorities is to meet ICAO (International Civil Aviation Organization) Standards and Recommended Practices relating to the technological level of the air navigation system. BELAERONAVIGATSIA SOE operates SINTEZ AR-2 ACC and TWR automated ATC system, with Type Certificate issued by the Interstate Aviation Committee. This system fully complies with EUROCONTROL and ICAO recommendations for Human-Machine Interface, and with the introduction of new requirements the system is continuously developed, which allows it to be competitive at international level.
In 2010 two VOR/DME (VHF Omnidirectional Radio Range / Distance Measuring Equipment) stations were installed for navigation purposes. Meteorological services are supported by VHF meteo broadcast equipment installed at all airports.
Of great importance is BELAERONAVIGATSIA SOE's membership in
EURASIA Coordination Council of the directors of national airspace use and air traffic management organizations. EURASIA Coordination Council was founded on 11 November 1999, with the aim to develop and coordinate measures for improving airspace management, national air navigation systems and air traffic management, to coordinate activities in air traffic flow management and air traffic services, and to improve the interaction among ATS unites. Chairman of EURASIA Coordination Council is Leanid Churo, BELAERONAVIGATSIA SOE Director General.
In compliance with ICAO Standards and Recommended Practices BELAERONAVIGATSIA has created a Search and Rescue Coordination Centre (SRCC). SRCC renders aviation search and rescue services which are aimed to provide prompt assistance to passengers and flight crews of aircraft in distress.
Cooperation with ICAO and EUROCONTROL has enabled BELAERONAVIGATSIA SOE to implement a number of major international programmes, in order to increase the overall level of flight safety in Belarus airspace. These programmes include:
- implementation of WGS-84 World Geodetic System as the single geodetic reference system for air navigation purposes in the civil aviation of the Republic of Belarus, providing for the adequate level of aeronautical data accuracy;
- implementation of ICAO English Language Proficiency Requirements;
- setting up FMP position in Minsk ACC flight planning division for rerouting of traffic flows over Belarus airspace;
- implementation of Safety Management System in ATM.
Staff aspects
The level of proficiency of the aviation personnel is one of the major factors contributing to the flight safety. At present BELAERONAVIGATSIA SOE employs more than 1,800 qualified specialists. Refresher training is organized in cooperation with Minsk State Higher Aviation College, Aviation Training Centre and the Academy of Management under the President of the Republic of Belarus. BELAERONAVIGATSIA SOE specialists have had their ab-initio training at Riga Aviation College, Kirovograd Civil Aviation College and St-Petersburg Civil Aviation Academy.
In accordance with ICAO English Language Proficiency requirements and National LPR Implementation Programme, starting from 2011 the ATCOs providing air traffic control services shall have a good command of the English language. For this purpose more than 180 controllers have had a training course in English at MLS International College, UK.
The enterprise operates ATC simulator module, which allows ATC officers and instructors to train their practical skills in emergency and contingency situations.
Affiliated Branches
Brest, Mogilev, Vitebsk, Gomel and Grodno airports are affiliated branches of BELAERONAVIGATSIA SOE. These airports are equipped with up-to-date communication, navigation and surveillance facilities. The airports have the status of international airports, and they are certified to operate all types of aircraft including the following aircraft of foreign manufacture: B737-200/500/800, B767-200ER, B757-200/500, and A310-200/300.
Recreation for BELAERONAVIGATSIA personnel is organized at branch on improvement, which includes improving complex "Raketa" and the hotel "Zvezdniy". Raketa comprises a number of multifunctional buildings and facilities including a swimming pool and a gym, a variety of sports grounds and also cottages with comfortable rooms.
BELAERONAVIGATSIA football team exercises at Raketa Recreation Centre. Competitions in various sports participated by amateur sportsmen from all of the company departments are held regularly. These competitions create a corporative atmosphere at the enterprise and encourage active and healthy way of life, which helps to perfect the staff performance. The enterprise specialists put all their efforts to improve Belarus airspace management and make BELAERONAVIGATSIA SOE one of the leading air navigation services providers in CIS and Europe.